Accidental death verdict for Flintshire airman James Smart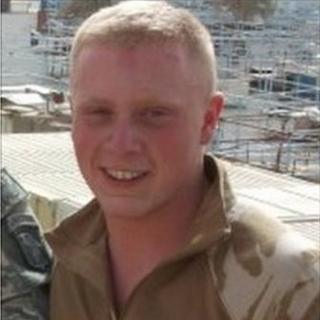 A Flintshire airman died when the truck he was driving crashed into a ravine in Italy, an inquest heard.
Senior Aircraftsman (SAC) James Smart, 22, from Hawarden was leading a convoy of three trucks in July 2011 when the crash happened.
A verdict of accidental death was recorded by John Gittins, coroner for north Wales east and central,
SAC Smart's parents welcomed changes introduced following their son's death by the Ministry of Defence.
The inquest in Ruthin heard it is still not known what caused SAC Smart's 38-tonne lorry to leave the road while driving in the Abruzzo region.
He was serving with the No 2 (Mechanical Transport) Squadron and his convoy was delivering equipment for Tornado jets for use by UK forces in Libya.
Flight Sergeant Brian Aitken, the convoy commander who described SAC Smart as an up-and-coming star, said there had been nothing unusual in his driving and he had not said he was tired or unwell.
He said the convoy stopped every four to four-and-a-half hours, with one exception near Modena in northern Italy due to a lack of space for the trucks at the designated site.
Flt Sgt Aitken said that on a left-hand bend, SAC Smart's truck seemed to move to the right, came into contact with a wall and then hit the metal barrier before plunging down the ravine.
SAC Smart suffered multiple injuries in the crash.
Following the crash, the Ministry of Defence held an inquiry resulting in measures including the fitting of tachographs into military vehicles, better planning and training for long-distance convoys and the acquisition of more comfortable trucks.
After the hearing, SAC Smart's parents said they were pleased with the thoroughness of the RAF inquiry and inquest.
"If the recommendations are all carried out they could save someone else's life which is one good thing to come out of James's death," they said.