Ysgol Sant Dunawd school personal data loss concern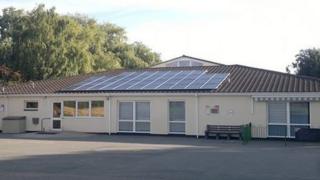 Parents of children at a Wrexham school are being asked to get in touch after personal data was potentially lost.
Ysgol Sant Dunawd, Bangor on Dee, confirmed an external hard drive has gone missing.
Head teacher Sara Tate said the device is encrypted, files are password-protected, and an inquiry concluded the drive was probably still on-site.
The potential loss of data has been reported to the Information Commissioner's Office (ICO).
Wrexham council said the ICO decided no further action was necessary because the encryption made it "unlikely that the data it contained could be accessed".
The school has told parents of current pupils there are no signs of a break-in and it believes the device was misplaced on site.
It contained copies of back-up files including the Schools Information Management System (SIMS) database, other software, and files.
Ms Tate said: "Parents who may be concerned that security of their personal information has been compromised are welcome to contact us so we can give them the full details of the event and the information commissioner's conclusion.
"We take the matter very seriously and have followed all best practice procedures.
"We have also reviewed our internal procedures to safeguard against a similar occurrence in the future."
The school said the level of encryption was the same used by governments and banking agencies and the risk of anyone accessing the data was extremely low.