Rhyl hovercraft link to Liverpool airport proposed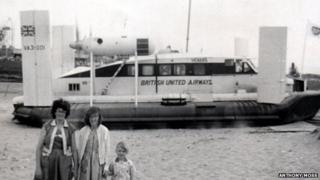 A hovercraft firm hopes to launch a service from the north Wales coast to Liverpool airport.
Hoverlink Ltd wants the project to start in Rhyl which had a short-lived hovercraft link to Merseyside in 1962.
Vale of Clwyd MP Chris Ruane told a House of Commons debate it "could be the first hovercraft link to an airport in the world".
Robert Goodwill, Parliamentary Under-Secretary of State for Transport, has agreed to meet with Hoverlink.
Mr Ruane told a Commons debate on regional airports: "The first hovercraft passenger service in the world was from Rhyl to Wirral more than 50 years ago, and currently three hovercraft companies want to restart that.
"One of them, Hoverlink, wants to establish a link to Liverpool airport from north Wales.
"Will the minister meet a delegation of MPs involved in that, and Hoverlink, to establish what could be the first hovercraft link to an airport in the world?"
Mr Goodwill said it was an "exciting idea," adding: "I would be delighted to meet those involved, and possibly even take a ride on one of those vehicles."
Hoverlink Ltd and Airspeed Hovercraft Solutions Ltd have both been granted draft licences by Denbighshire council to operate crossings.