Airbus Broughton: Farnborough orders 'good news' for staff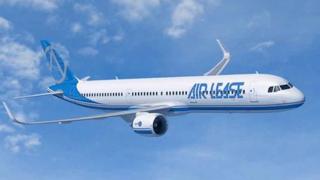 A multi-billion-pounds order for new aircraft will sustain jobs for workers in Flintshire, plane-maker Airbus says.
The company signed a memorandum of understanding with American firm Air Lease Corp on Monday, for 25 of its re-vamped A330 models.
Air Lease also ordered 60 A321neo aircraft, in a deal worth $14.1bn (£8.2m) at the Farnborough Air Show.
The wings are made at Broughton and an Airbus spokesman said the orders were "good news" for the Flintshire plant.
The company said on Monday it had orders for 155 aircraft so far at the show.