Bangor teacher William Richard Jones struck off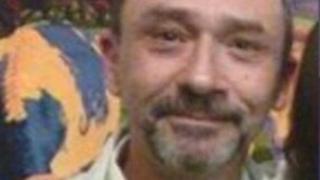 A former head of art at a Bangor secondary school has been struck off the teaching register indefinitely.
A General Teaching Council for Wales (GTCW) tribunal heard William Richard Jones hugged and kissed pupils at Ysgol Friars, made sexually suggestive comments and swore in the classroom.
The panel was also told he made inappropriate comments on Facebook.
He was found guilty of unacceptable professional conduct after 10 of 11 allegations were proved.
The GTCW hearing at Ewloe, Flintshire, was told Mr Jones also invited pupils to his home for meals and made a derogatory comment about another teacher to his students.
Head teacher Neil Foden said Mr Jones, who took up his post in September 2008, had an "unorthodox style".
Mr Jones was suspended in June 2012 following a complaint from a parent and a subsequent investigation.
In September 2013, a disciplinary hearing held by a panel of school governors decided he could teach again, but should be demoted to a classroom teacher.
However, a concerned parent referred his behaviour to the GTCW and a three-day hearing was held this week.
Social media comments
The hearing was told that in one Facebook post, he wrote: "William Richard Jones has just woken up after a HUGE nap. I may get flamboyantly drunk later…"
Mr Jones agreed that he obtained mobile telephone numbers from pupils and gave them his and would text some pupils outside of school time.
He commented on Facebook about a picture of one of the pupils, writing: "Beautiful! I wish I was 34 years younger :-)xxxxx".
Mr Jones also took the same pupil to his home after taking her on a photographic trip.
The panel agreed Mr Jones had failed to demonstrate the "necessary level of insight and understanding of the serious nature of his actions" and decided he should be struck off the teaching register indefinitely.
He will be able to apply for permission to re-register in two years' time.