Chatwins Bakery, Ruthin, damaged by fire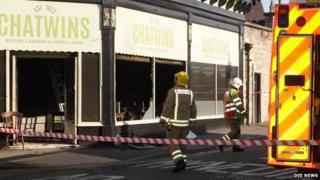 An "intense" fire has badly damaged a bakery in Denbighshire.
The alarm was raised at Chatwins Bakery, formerly Berwyn Bakery, in Ruthin shortly before 07:00 BST.
The full extent of the damage caused by the blaze, which started in a refrigerated display unit, is not yet known.
Witnesses said they noticed the smell and could see smoke "billowing out" from the roof of the bakery, which includes a carvery and coffee shop.
The building was said to be smoke logged and the heat cracked windows so firefighters had to smash them in case they exploded.
Town councillor Geraint Woolford said he spotted the fire as he walked through town to get a bus to attend Llangollen International Music Eisteddfod.
"The windows were cracking and the fire service had to put them through," he said.
"The heat must have been quite intense."