£200,000 payout given to Mary Burrows described as 'value for money'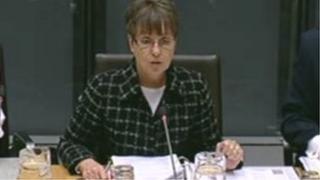 A £200,00 payoff for a former boss at Wales' largest health board was described as 'value for money'.
Peter Higson, chairman of the Betsi Cadwaladr University Health Board said Mary Burrows' departure could have become more protracted without it.
The £200,000 payment was part of up to £470,000 paid to Ms Burrows last year.
Giving evidence to the Assembly's Public Accounts Committee, Dr Higson said it would have been detrimental to everybody if there was no settlement.
He added: "I think it was a situation taking all circumstances into consideration it is a very large sum of money but it was a mutual separation, a mutual severance - and I think taking everything into account it represented value for money given what the total sum could have been had things become more protracted."
Previously, the Royal College of Nursing (RCN) criticised the payout and called for limits on such payouts.
Union criticism
David Wallace, associate director for employment relations at RCN Wales, said: "I think it's obscene that in these austere times, pay-offs of that nature are being paid, when you look at the cutbacks having to be made across the mainstream NHS."
Ms Burrows left Wales' largest health board in December, months after a damning report revealed that her relationship with the board's chairman had broken down.
The health board, which covers the whole of north Wales, said she had stepped down by "mutual agreement".
Its annual accounts for 2013/14 show her salaries and allowances for that year were £465,000-£470,000.
The accounts say: "The salary reported for Mrs M Burrows includes a payment of £200,000 in respect of a settlement agreement for her departure from the post of chief executive on 16th December 2013 and a payment of £68,817 in respect of her contractual entitlement to payment in lieu of notice.
"The terms of this exit package were agreed by the board and made in accordance with Welsh government guidance."