Froncysyllte Male Choir severs ties with Rolf Harris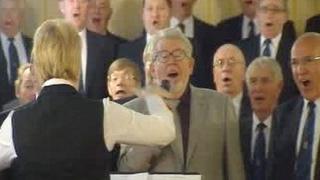 Froncysyllte Male Voice Choir have moved to sever ties with disgraced entertainer Rolf Harris.
Harris had held the position of honorary vice president since 2010, following a successful UK tour with the Wrexham choir two years earlier.
He has now been stripped of the title, and photos featuring Harris have been removed from Fron's website.
Harris was sentenced to five years and nine months last Friday, for 12 counts of sexual assault on four girls.
Choir Master Dave Jones said he was very sorry that they had been taken in by Harris' "larger than life persona".
"Obviously we have been on the front foot with this ever since the allegations came to light, but we thought it only right to let the jury make their decision before we acted ourselves," he said.
"We feel duped, but it's not about us. Our thoughts are with his victims now."
'Tainted' work
Formed near Llangollen in 1947, Fron came to prominence in 1995 when they performed with Luciano Pavarotti.
A recording contract with Universal followed, and their album Voices From The Valley reached number nine in the UK album charts.
In 2008 they provided the backing vocals for Harris when he re-recorded his hit Two Little Boys, to mark the 90th anniversary of the end of World War One.
Mr Jones said: "It seemed such a successful and enjoyable collaboration at the time.
"But one of the many tragedies of this is that because of the revolting things he did, all his work is now tainted and worthless."