Flood warden plea to protect Prestatyn from tidal damage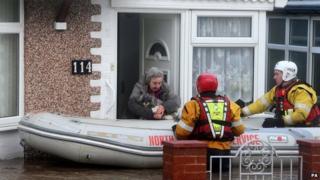 Environment officials are recruiting flood wardens to protect a Denbighshire coastal community from high tides.
Natural Resources Wales (NRW) is visiting homes and businesses in Prestatyn to draw up a flood plan.
Officials want people living and working locally to take on help roles in the event of future emergencies.
The scheme started in Wrexham in 2000 after the village of Rossett was hit hard. NRW announced last year it was extending the service around Wales.
Its staff are in Prestatyn this week to encourage people to join the scheme and help draw up the action plan such as identifying vulnerable people and selecting safe evacuation locations.
The region and other parts of the Welsh coastline were hit hard by tidal flooding last winter with people evacuated and property damaged.
NRW says over 4,500 homes, 160 businesses, two schools and 11 caravan parks are at risk of tidal flooding in Prestatyn alone.
"It's really important that local people in the Prestatyn area get behind this campaign," said Denbighshire councillor David Smith, cabinet lead member for environment.
"We have seen a number of flood incidents affecting many families over recent years and the council is working closely with its partners, including Natural Resources Wales, to inform residents of what they can do to protect themselves and their properties in the event of a flood."