Solar park plan near Wrexham Industrial Estate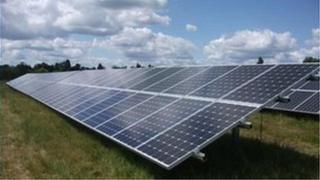 Plans for a giant solar park on land next to Wrexham Industrial Estate are being drawn up.
The 24.8-hectare (61-acre) field could still be used by the landowner to graze sheep, say developers.
The solar park could generate enough electricity to power 4,280 homes or businesses on the industrial park, say TGC Renewables.
An exhibition and public consultation is being held at nearby Isycoed Village Hall.
In April, another firm announced it wanted to build a solar farm on a 45-hectare (111 acres) site between Kinmel Bay and the A55 dual carriageway in Conwy county.
And plans are also being pushed forward to build solar park covering 90 hectares (222 acres) next to Deeside Industrial Estate in Flintshire with 180,000 panels, enough to produce electricity for 11,000 homes annually.
The plans for land between Bryn Lane and Francis Lane, near Wrexham Industrial Estate, have yet to be formally considered by Wrexham planners.