Llanbedr school future: Minister asked to decide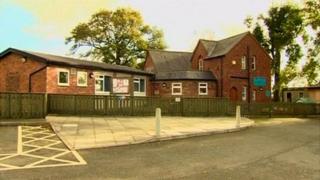 Opponents of the closure of a village school have asked the education minister to decide on its future.
Llanbedr Dyffryn Clwyd was approved for closure by Denbighshire council earlier this year as part of a primary school review in the Ruthin area.
But it is a faith school and the Church in Wales Diocese of St Asaph said the need for it remained strong.
The diocese has now asked the Welsh government to decide on whether the closure should go ahead.
It is proposed that the 22 full-time and seven part-time pupils be transferred to Borthyn School in Ruthin from September.
Opponents have argued that with 13 applications for nursery admission next year, the future of the school was bright.
Rosalind Williams, the diocese's director of information and lifelong learning, said: "The submission to the minister sets out very clearly why we feel that the decision to close is the wrong one and we very much hope that the minister will recognise this."
However the council has said although projections showed an increase in pupil numbers over the coming years, surplus places would remain an issue.
A final decision is expected in the summer.