Jailed ex-Wrexham FC boss gives inmates and ex-offenders tax advice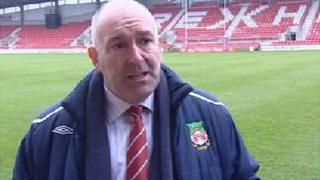 A former Wrexham Football Club director, who was jailed for fraud, says he is "truly sorry" and wants to help ex-offenders with their finances.
Paul Retout, 53, who left the club in 2010, was sentenced to 16 months for submitting £60,000 of false invoices to a firm he was a partner in.
He is setting up a social enterprise company to help inmates and their families with tax advice.
The accountant from Denbighshire said he has "taken stock" of his life.
"I am not proud of having gone to prison and the undeniable impact on my family and friends," he said.
"It has happened and I am unable to 'turn back the clock'. I am truly sorry for what has happened and I am paying my debt back to society."
He said his experience of prison had left an "indelible mark" but had allowed him to reflect and he wanted to pay something back.
Retout from Ruthin has already given a tax seminar as part of Wandsworth Prison's business start-up education programme and offered similar advice at Brixton.
Since leaving prison, he has been setting up a social enterprise, the Tax Academy.
'Give something back'
It will provide tax support and training to unrepresented taxpayers and particularly to prisoners and their families.
As a social enterprise any profits will be re-invested into projects aimed at stopping reoffending.
"There is very little tax support for offenders inside and outside prison," said Retout.
"A tax refund may make the difference from reoffending or not, and help them to receive accommodation, food and clothing on leaving prison.
"Tax refunds whilst in prison may help prisoner families with the financial strain of the main breadwinner going into prison."
Sandy Williams, social enterprise officer with Denbighshire Voluntary Services Committee, which has helped set up the enterprise, said: "I am really impressed that Paul having left prison is still keen to give something back and help other ex-offenders."
He has also written in the prisoners' Inside Time newspaper on how inmates lacked knowledge of tax rebates, and on average calculated they could be due £1,000.
Retout was jailed for fraud at Kingston Crown Court last October.
The court was told that Retout obtained £59,806 as result of his fake invoices, and also carrying out work which had not been authorised in advance by the London firm.