Strike action at Magellan Aerospace factory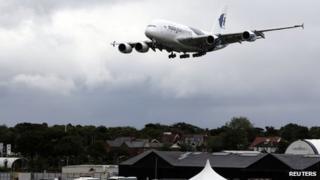 Workers at an aerospace factory in Wrexham have voted for strike action over what they are calling a "very inadequate" pay offer.
Unite union members at Magellan Aerospace voted by 92% for action, officials said.
Around 200 staff work at the Llay industrial estate site produce structural components for the aerospace industry.
The company said their pay deal was "fair and reasonable".
The company has a long-term contract to supply components to Airbus.
Unite deputy regional secretary Peter Hughes said: "Magellan and the aerospace sector generally are making very handsome profits, yet it has offered the dedicated and highly skilled workforce a very inadequate three year pay deal.
"The level of anger that our members feel is reflected by the overwhelming vote for strike action and industrial action short of a strike."
The union has called for managers to restart negotiations.
A statement from Magellan Aerospace said: "The company has offered a fair and reasonable 3 year deal, including an enhanced profit related bonus, in a very competitive market place."
It added: "In order for us to meet our commitment, secure and grow employment in the UK, and avoid work and jobs moving to low cost economies we have to control our costs.
"Unfortunately we have not managed to help our workforce understand this, however the door is not closed and we will be discussing the way forward so that all of our employees can benefit today and in the future from the success of the business in Wrexham."