Council stops short of celebrity name ban for Denbighshire streets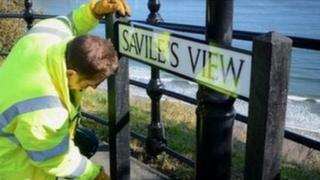 Council leaders appear to have stopped short of implementing a total ban on naming streets after celebrities.
A report to Denbighshire councillors recommended streets or public buildings should not be named after people due to fears over possible future scandals.
But its cabinet decided street naming would not be approved unless there was a clear historical or cultural link.
It follows worries that embarrassing situations could arise if a person's reputation is later tarnished.
Street names and other memorials to people like Jimmy Savile and singer Ian Watkins were removed after details of their sex offences came to light.
Historic links
A report to Denbighshire's cabinet on street naming policy recommended that in future none should be named after any specific person, alive or dead.
But cabinet members decided that naming a street after a person would not be approved unless there was a "clear case is made after the historical or cultural link of the individual to the land or locality".
The council will continue to encourage developers naming new streets to preserve any historic links with the area.
Before Tuesday's meeting, a council spokesman said a number of authorities were now taking a stance to choose not to name streets or buildings after individuals "as in a minority of cases the reputation of individuals could change over time and the naming of streets is a permanent action that cannot be changed".
Plans not to use punctuation on signs, such as in St George's Drive, were also due to be discussed.
When a similar ban on apostrophes was introduced in Devon there were protests, but officials defended the action by claiming it was intended to avoid confusion.
There were also to be discussions over banning the word "the" and names that sound similar, such as Churchill Road and Birch Hill Road.
This, the council said, would partly prevent confusion for emergency services.
Names that were also set to be rejected were Court, View, Park, End and Walk.