Residents re-open library in Gresford, Wrexham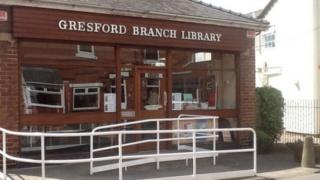 A library closed by council cuts is celebrating its rebirth as a community enterprise with a grand re-opening.
Gresford library shut in March as part of a Wrexham council plan to save £92,000 a year on its libraries budget.
Now local volunteers have come forward and formed a limited company to take over the running of the library.
Councillor Andrew Bailey, a volunteer and chair of the company, said they were determined not to lose such a valued service.
"It's smashing - I had a public meeting in January with 100 people determined to keep the library going," he said.
A team of 30 volunteers keeps the library open 13 hours a week over three days rather than the previous 21 hours across five days.
Mr Bailey said in the longer term they were looking to extend their opening hours and offer courses.
"We'd rather start off small and expand than be too ambitious," he said.
Brymbo library closed as part of Wrexham's cutbacks while others across the county borough have seen their opening hours reduced.