Scouts 'should be investigated' over Martyn Tucker abuse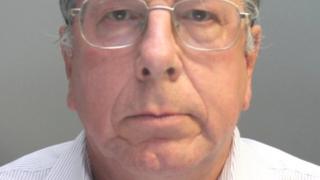 The Scout Association should be investigated after it failed to tell police a scoutmaster had abused children, an MP has said.
Alyn and Deeside MP Mark Tami said something "went seriously wrong" when allegations made about Martyn Tucker were not passed to North Wales Police.
Tucker, 68, of Chester, was jailed for 12 years for 26 offences against boys in the 1960s and 1970s.
The court was told the scouts knew of the allegations.
Mr Tami said: "These allegations only came to light because the police found out about them, rather than the scouts bringing it to their attention.
"I think the Scout Association needs to look at themselves in the first instance. They now have very tight guidelines and procedures, we need to make sure there are not any more cases."
Changing rooms
Earlier this week, Mold Crown Court heard the scouts was informed of the attacks in the 1970s and even took statements from a number of boys.
But the statements were never passed onto police and were uncovered by officers from the scout's headquarters last year.
Tucker abused scouts while he was assistant scoutmaster of Shropshire's Whitchurch troop.
He also abused others while the manager of a clothes shop in the town, taking boys into the shop's changing rooms.
Tucker also visited a farm at Pontybodkin, Flintshire and abused scouts there.
Mr Tami, who has written to The Scout Association about the matter, said: "If this had been dealt with properly at the time he could've been stopped."
During his police interview, Tucker said: "I have been waiting for this, particularly since the Jimmy Savile stuff came out.
"I hoped it would never happen but I knew that one day it would. I deeply regret what I did then. I have lived with it. I ruined my life and I ruined others."
The BBC has asked The Scout Association for a response.