Wrexham FC's Racecourse Stadium gets 300k revamp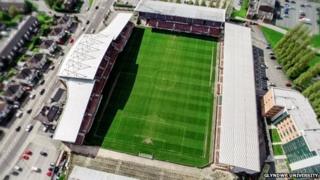 Wrexham FC's Racecourse stadium is to undergo a £300,000 facelift this summer which could herald the return of senior international matches.
It has been the scene of some of Wales' most famous victories, including a 4-1 win over England in 1980.
The upgrade will see the stadium reclassified, meaning it will be able to host senior international games.
It still stages junior internationals but over time has dipped below Uefa standards for senior matches.
The work includes a new pitch, changing rooms and improved floodlighting.
The medical and treatment facilities at the ground, which is also home to the North Wales Crusaders rugby league team, will also receive a revamp.
There are also plans for improved seating for disabled supporters, but this is to subject to fundraising by Wrexham FC Disabled Supporters' Association.
Two month project
Glyndwr University, which owns Glyndwr University Racecourse Stadium, said the pitch had been the subject of much speculation all season.
But funding from the Football Association of Wales, the Rugby Football League, Wrexham FC and the Football Stadia Improvement Fund means improvements can now take place.
Glyndwr's sports manager Anna Marie Brown said: "We have worked hard over the past year to secure this funding and are thrilled to announce these major improvements will go ahead this summer.
"As well as new changing facilities and better seating for disabled supporters there will be a brand new pitch and improved drainage and irrigation around the stadium."
The ground will be closed for two months when work begins next week, and will be ready for the start of the new football season in August.