Ex-scoutmaster Martyn Tucker jailed for sex attacks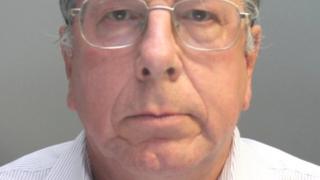 A former scoutmaster who admitted 26 sex offences against boys in the 1960s and 1970s has been jailed for 12 years.
Martyn Tucker, 68, of Chester, was also put on the sex offenders' register for life, Mold Crown Court heard.
He previously admitted five counts of serious sexual assault, 12 of indecent assault and nine charges of indecency with a child.
The court was told the scout movement knew of the allegations, but never told the police.
It was informed of the attacks in the 1970s and took statements from a number of boys, which were uncovered from the scout's headquarters last year.
'Changing rooms'
Tucker abused scouts while he was assistant scoutmaster of Shropshire's Whitchurch scout troop.
He also abused others while the manager of a clothes shop in the town, taking boys into the shop's changing rooms.
The court heard Tucker preyed on victims in Bristol, where he instructed them to perform sex acts with another man.
And while on a canoeing weekend in Llangollen, Denbighshire, he was joined by an unknown primary school teacher who also carried out sex acts on victims.
The court was told Tucker visited a farm at Pontybodkin, Flintshire, owned by a member of his family at the time, and abused scouts there.
Judge Niclas Parry said there had been "a deliberate, calculated, sophisticated grooming process" to fulfil his "thirst for excitement" at the expense of his victims.
"You created safe locations to offend against them, you exploited your power for your own sexual gratification, and showed a total disregard for their physical and psychological well being," said Judge Parry.
"You arranged to be alone with them out of reach of those who could ensure their safety."
'Destroyed their childhood'
Det Insp Neil Harrison, of North Wales Police, said: "Martyn Tucker, in his capacity as a scout leader, was someone who held a position of trust.
"Young boys were left in his care at an age when they were vulnerable and at that time they placed their complete trust in him.
"Tucker abused that trust and in doing so destroyed their childhood and left them with memories that they have been forced to live with since.
"It is now hoped that the victims can take some comfort from the fact that Tucker has been held to account for his actions many years ago."
During his police interview, Tucker said: "I have been waiting for this, particularly since the Jimmy Savile stuff came out.
"I hoped it would never happen but I knew that one day it would. I deeply regret what I did then. I have lived with it. I ruined my life and I ruined others."
The offences date from 1968 to 1978 when he worked as a scoutmaster.