Table tennis twins Angharad and Megan Phillips in Wales squad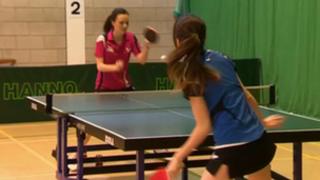 Twin sisters who play table tennis together have been selected to represent Wales at the Commonwealth Games in Glasgow this summer.
It will be the second time Angharad and Megan Phillips, 20, from Ruthin in Denbighshire, have been in the competition after playing in the 2010 Delhi games.
They are the second sibling pair to be selected for the table tennis event.
Brothers Ryan and Stephen Jenkins from Rhondda Cynon Taf are in the squad.
The twin sisters deferred places at university two years in order to commit full time to the sport, with the aim of making the Olympic squad for Rio in 2016.
They come from a family of sporting achievers.
Their father Tegid played football for the Wales under-19 squad, while grandfather Les Phillips represented Great Britain in the discus and their uncle John did the same in the triple jump.
Angharad Phillips told BBC Wales: "We definitely weren't confident [of being selected]. There were scenarios where one of us would go, neither of us or both of us.
"It's been a very nervous couple of months."
Megan added: "It feels like we have been working really hard for the past four years to make the team but now that we have and we're going to Glasgow the hard work really has to begin."
The other team members are nine-times Welsh women's singles champion Naomi Owen, Conor Edwards, Daniel O'Connell and Chloe Thomas.
The build-up to the Commonwealth Games began in earnest in the UK on Sunday as the Games' baton returned to the British Isles in Jersey following a worldwide tour of 63 nations and territories.
Olympic and Commonwealth diver Tom Daley carried the baton ashore,
The Queen's Baton contains contains a message from the monarch which will be read out for the first time at the opening ceremony in July.