Welsh National Opera 'revolution' hits Wrexham streets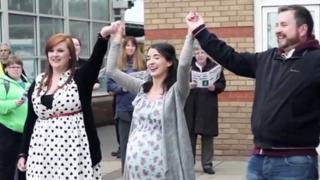 A three-year programme by the Welsh National Opera (WNO) performing live music on to the streets of Wrexham reaches its conclusion on Saturday.
But a housing estate-based choir made up of people of all ages is expected to be one legacy of the project.
Saturday will see a roaming interactive theatre game evolve in the town centre as it becomes a hotspot for a fictional revolution called Silent State.
Organisers say it will allow opera to be seen in a "new and different way".
Other the last three years opera has been performed live in the local hospital and shopping centre, with the WNO working with an estimated 3,500 people.
Early in the project it arranged a bus to ferry Wrexham residents to opera productions at Liverpool and Llandudno, subsiding the travel and admission ticket, with an opera singer providing music and an explanation of the show.
WNO youth and community producer Ruth Evans said it was hoped the service would continue.
She is also hoping to help the Cor Caia Choir, the group named after its base on Wrexham Caia Park housing estate, to become self-financing although the WNO will continue to offer support.
It meets weekly for choir practice and is made up of children and adults who now perform locally.
They are due to take to their biggest stage in July when they perform at Llangollen International Music Eisteddfod, a festival which attracts choirs from around the world.
Ms Evans said: "Silent State is a vibrant and fitting way to celebrate the culmination of WNO's three years of work in Wrexham through the Wrexham Street Songs programme.
"The event, as with all other past projects, will allow opera to be seen and experienced in a new and different way."
Other events are being held around the UK to mark European Opera Day.