Wrexham clock-making exhibition at museum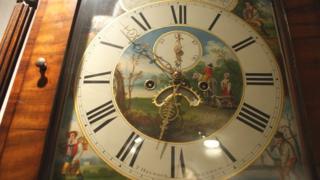 Wrexham's time as one of Wales' biggest producers of long-case clocks is the focus of a new museum exhibition.
From the early 18th Century several clockmakers opened shops to make grandfather and other grand clocks for the town's wealthy residents.
It is thought the town's close proximity to the metals and other materials needed to fashion clocks and their mechanisms was one reason the industry flourished.
Telling the Time opens on Monday.
The show in Wrexham Museum charts the rise of the industry as pioneers like Thomas Hampson and his three sons opened a workshop on the High Street between 1728 and 1748.
And it marks its decline in the 19th Century with the mass production of parts which left clockmakers calling time on a lot of Wrexham's bespoke production as it became cheaper to assemble clocks, rather than design and build them.
However, unlike some watch and clockmakers, Wrexham's clockmakers put the emphasis on the exterior of their clocks, with the internal workings more utilitarian and seldom put on show, according to museum access and interpretation officer John Gammond.
The clock faces evolved to give seconds and days rather than just minutes and hours and their chimes became more frequent as local craftsmen became more knowledgeable.
Since the museum service started in the early 1980s, it has been gathering a collection of local long-case clocks, including examples by Thomas Hampson and his competitor Humphrey Maysmore who moved from London to manufacture clocks on Town Hill.
Mr Gammond said: "Wrexham, the biggest town in Wales until the 18th Century, was an ideal base for clock making with a long tradition of metalworking: blacksmiths, gunsmiths, bucklers and needlemakers.
"These artisans possessed the skills in metal working and the knowledge of maths and science required to manufacture clocks."
He said raw materials were easily available with brass for the dials brought from the foundries of Chester and Warrington, lead for the weights came from nearby Minera and castings for the works from Wrexham's many foundries.
"Wrexham itself was a bustling market town, home to a prosperous gentry and a regular haunt of dealers and businessmen from across north Wales," said Mr Gammond.
"These were the kind of people who wanted the 18th Century's ultimate middle-class status symbol - a long case clock of their own."
Also featured in the exhibition is a former factory attendance clock from the demolished Llwyn Einion Shale Brick Company, a brickworks which opened in Rhosllanerchrugog in 1891 and closed in 1957.
Used by workers for "clocking in and off", it was saved for posterity before the factory was flattened in 1980.
Other highlights include a fob watch from a Polish veteran of the battle for Monte Cassino in Italy during World War Two.
It arrived when Polish ex-servicemen and their families settled around Penley's former Polish hospital on the Wrexham-Shropshire border.