170 St Asaph parishioners go on pilgrimage to Glasgow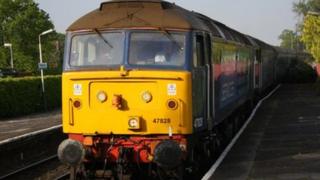 More than 170 parishioners from across the diocese of St Asaph travelled to Glasgow on a specially chartered train to mark the end of the diocesan year of pilgrimage.
The Bishop of St Asaph led pilgrims to the home of St Kentigern, who founded the diocese of St Asaph around 560 AD.
They visited St Kentigern's tomb in Glasgow Cathedral during a guided tour.
Rt Revd Dr Gregory Cameron, said: "It really is like a trip to our spiritual home."
St Kentigern was Bishop of Strathclyde, which was a Welsh kingdom at the time, and from Glasgow he came to evangelise north Wales.