Catrin Pugh tells of recovery from 96% coach crash burns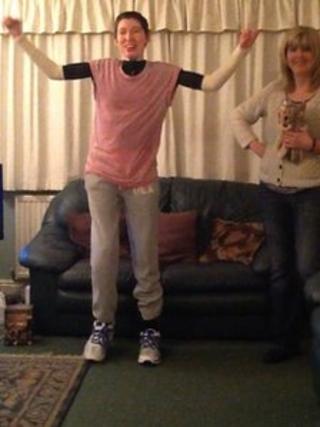 A 20-year-old Wrexham woman who suffered 96% burns in a coach crash a year ago says the support of family and friends is helping her recovery.
Doctors did not expect Catrin Pugh from Rossett to survive the crash in the French Alps in April 2013.
She spent three months in intensive care and has undergone 200 procedures at Whiston Hospital, Merseyside.
Now she is planning to go to university after another year of rehabilitation.
Miss Pugh was among more than 50 passengers on the coach when it crashed, killing the 63-year-old driver.
She can remember seeing "everything going on fire" and then lying on the roadside "screaming in pain".
"The next thing I remember is waking in the burns unit at Whiston three months later," she said.
Miss Pugh, who had been working at a ski resort while on a gap year, says there were "dark days" early in her recovery and at that time she "could not see a future".
But she now hopes to go to university in 2015 and is considering pursuing a career in occupational therapy or teaching.
'Life changed'
Consultant Ian James, who has been treating Miss Pugh at the hospital burns unit, said he has never known anyone to survive such extensive burns.
His priority was to keep her wounds clean to prevent infection as her skin continued to heal while she underwent extensive treatment.
This included skin grafts provided by family members including her mother, Sarah, a part-time teacher in the village primary school.
Her doctors expect her rehabilitation to take another year and she returns to hospital regularly for dressings and physiotherapy.
She has been using social media to chart her recovery, tweeting on 16 April "A year today my whole life changed" as well as posting a video on Instagram showing her walking beneath a message which said: "Look what I can do!"
As well as the support of medical staff, family and friends, she said her recovery has been helped by strangers who have been wishing her well and calling her an "inspiration".
"I'm completely grateful to everyone," she said.
Solicitor Paul McClorry, head of travel law at Slater & Gordon in Manchester, confirmed the Pugh family is taking legal action against the coach operator.
He said: "We are investigating the circumstances surrounding this tragic accident which has had such a devastating effect on a young life."