Glyndwr University extends its redundancy scheme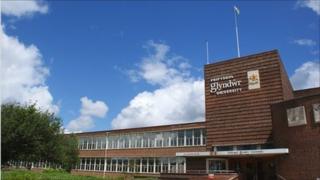 Wrexham's Glyndwr University says it has extended its voluntary redundancy scheme as it looks to cut 60 posts.
Staff at the campus staged a protest in March over planned redundancies.
The university said it still wanted to avoid compulsory redundancies where possible.
It said it had also accepted a proposal in the consultation with staff to change its "current organisation structure" by the end of August.
In February, the Times Higher Education said the university faced a deficit of close to £4m in 2012‑13, amounting to 9% of its total income, with 65 jobs under threat of redundancy.
Members of the University and College Union (UCU) backed a motion of no confidence in Glyndwr vice chancellor, Prof Michael Scott, after the redundancy proposals were announced.
In a statement, the university said its "dialogue with employee representatives and consultation with employees continues".
Prof Scott said: "I am confident that we will now move forward with an improved, commercially-focused organisation, vital to the region, with solid foundations and a bright future."