Campaign's challenge as Plas Madoc Leisure Centre shuts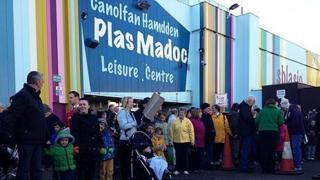 Start-up funding and continued support are the top challenges facing a campaign to reopen a Wrexham leisure centre, says a leading campaigner.
The council-run Plas Madoc Leisure Centre closes later on Sunday but Splash Community Trust has until 1 October to save it from demolition.
Trust chair Darryl Wright said the situation "looks promising" with the council pledging its full cooperation.
He said: "We're hoping that people's focus will remain."
Wrexham council is shutting the venue as part of the £45m savings it needs to find over the next five years.
Despite saying it can no longer afford to run the Acrefair-based facility, the local authority has said it will do everything it can to support the community trust.
The council has already postponed plans to demolish Plas Madoc to give volunteers time to come up with an action plan, while campaigners have staged protests aimed at saving the centre.
Mr Wright said the trust aims to reopen the venue, which includes a swimming pool, sports hall and a gym, as early at August or September.
However that would depend on raising start-up funding from public or private sector sources, with the venue's takings making it self-sufficient thereafter, he said.
He said: "We feel quite confident that once the centre is up and running, after the first two or three months the takings will enable us to cover that.
"The need now is for some cash-in-hand to start up."
He said the campaign's prospects were "looking promising" after the council's pledge to provide a lease for a nominal fee and to hand over the venue's sports equipment.
An on-going challenge would be to maintain the level of public support for the campaign in the weeks following the venue's closure, he said.
He added: "We have had fantastic support from the public. With it closing, we're just hoping that people's focus will remain and interest does not wane.
"We want people to carry on in the same vein and give us all the backing they can. People are bound to leave us. We hope that people will return."
Campaigners are expected to hold a "dry swim" around the building, with youngsters walking while wearing goggles, armbands or swimming caps, on Sunday to mark its closure at 17:00 BST.