Police inquiry into death of disabled Alun Rees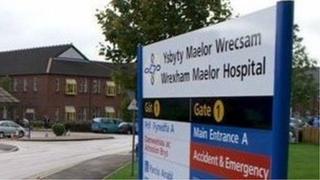 A police investigation and a council serious case review were launched after a disabled man admitted to hospital with severe pressure sores died, a pre-inquest hearing has been told.
Alun Rees, 54, from Brymbo, Wrexham, who had Down's Syndrome, died at the Maelor Hospital in September 2011.
Coroner John Gittins said he would conduct a wide-ranging inquiry into the circumstances of Mr Rees's death.
The Ruthin hearing was adjourned until a later date, possibly in October.
Mr Rees died about a month after he was admitted to hospital.
'Very poor condition'
The hearing was told the provisional finding by Home Office pathologist Dr Brian Rodgers put the death down to multiple organ failure due to sepsis.
Mr Gittins, the coroner for North Wales East and Central, said Mr Rees had been in the care of his sister Brenda Griffiths, who lived with him, and he had been "in generally very poor condition".
The delay in concluding the inquest, he said, had been because of Wrexham social services' serious case review into the apparent lack of monitoring of the case, and the police inquiry into Mrs Griffiths's conduct. No charges were brought.
Mr Gittins said that while he could not apportion blame, it was important that he conduct as full an inquiry as possible and consider what steps had been taken to prevent future deaths.
'Sad case'
He told legal representatives for the council and for Mr Rees's brother John that he intended to call Mrs Griffiths, who now lives in Brynteg, Wrexham.
"I have limited powers in forcing people to attend and I have to give people the opportunity to decline to give evidence, but it is important in this sad case that we get to the bottom of what has happened here," Mr Gittins said.
He also wanted to hear of Wrexham council's involvement with Mr Rees and whether opportunities had been missed in his care and safeguarding, he said.
Other medical evidence will be called on how long such serious pressure sores would have taken to develop.
Mr Gittins said he did not believe that the matter should be considered by a jury.