Wrexham FC: Memorabilia appeal for 150th anniversary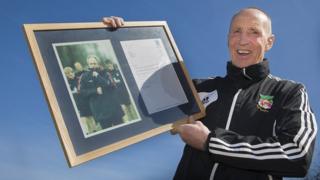 One of the world's oldest football clubs has launched an appeal for memorabilia to help mark its 150th anniversary.
As part of the celebrations at Wrexham FC, a pop-up museum will open between 29 and 31 May at the town's Eagles Meadow shopping centre.
Organisers are appealing for photographs, posters, football shirts and other artefacts.
The club was founded in 1864 and is said to be the world's third oldest.
The team's history was rewritten in 2012 when archive research confirmed it was actually set up in 1864 and not 1873 as had been thought for decades.
Now the town is planning to celebrate the landmark 150th anniversary with a pop-up museum, which has received the backing of club legend Joey Jones.
Jones, 59, who played 376 times for Wrexham and is now the youth team coach and reserve team manager, said: "It would be great to see just what memorabilia fans have tucked away in their cupboards whether it's some long-forgotten programme, match tickets or one of those old rattles that were all the rage when I was a lad."
Medals
Eagles Meadow shopping centre manager Kevin Critchley said Wrexham FC was woven into the fabric of the town.
He said: "We're looking for all manner of interesting artefacts including photographs, posters, football shirts, balls, clothing, equipment."