Paedophile Robert Bill jailed for 20 years in Morocco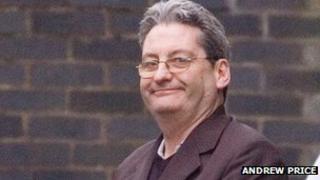 A man has been jailed for 20 years in Morocco for kidnapping and attempting to rape three girls, it is reported.
Robert Bill, 59, a former teacher from St Asaph, Denbighshire, was convicted by the court in Tetouan at a hearing attended by his victims, according to a source quoted by the AFP news agency.
He was arrested in the port town of Tetouan in June 2013 after residents heard a girl screaming in a car.
He was jailed for six years in 2009 for trying to abduct a girl in Flintshire.
AFP said Mohammed Benaissa, who heads the Northern Observatory for Human Rights, was at the trial.
Mr Benaissa said: "We welcome this ruling, because it protects the children and it sends a warning to paedophiles."
Bill, who had denied the charges, has 10 days to appeal the verdict.
He was also fined 100,000 dirhams (about £7,350).
He was arrested last June at a petrol station in Tetouan in northern Morocco when locals overheard the screams of the six-year-old girl he abducted, surrounded his Spanish-registered car and alerted the police.
He was also accused of kidnapping and attempting to rape another two Moroccan girls prior to his arrest - one in Tetouan and one in the nearby town of Chefchaouen.
'Sexual predator'
His trial had previously been postponed when the defendant's Moroccan lawyers withdrew from the case and, at the previous hearing in March, one of the victims passed out in court, Mr Benaissa said.
The former teacher, who later ran a business as a playground designer, has previously been jailed in the UK for child sex offences and has been described by a judge as a "sexual predator".
In March 2009 he was jailed for six years at Caernarfon Crown Court for the attempted abduction of a five year-old girl in Holywell, Flintshire, in 2007.
He later appealed and after pleading guilty before a retrial, was then sentenced to a two year prison term at Chester Crown Court in 2010.
After leaving prison he travelled to southern Spain, arriving in Morocco in November 2012 from the town of Ceuta, a Spanish enclave on the north African coast.
Spanish police had issued a warrant for his arrest on separate paedophilia and kidnapping charges.