Craig Bragdy Design fined for ceramics lead exposure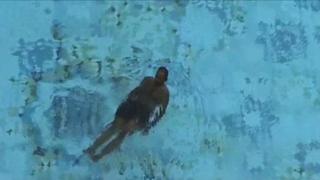 A Denbighshire ceramics firm which sells its work to wealthy clients overseas has been fined £35,000 for failing to protect workers from lead.
Craig Bragdy Design, of Denbigh, admitted five offences of breaching Control of Lead at Work Regulations.
District judge Gwyn Jones, sitting at Llandudno, heard some of the 70 staff at the firm had levels of lead well over the limits allowed.
The court heard the firm no longer uses lead in its production process.
The family firm is one of the world's leading specialists in large handmade ceramic murals and swimming pool decoration.
Simon Parrington, prosecuting for the Health and Safety Executive, said the maximum fine for each offence was £20,000 in the magistrates' court.
The firm's employees were mainly women, the court was told.
Gary Smith, defending, said the company had 208 health and safety regulations to comply with.
He said: "Had the company been aware of these regulations we wouldn't be here now."
'Wellbeing'
The firm had spent £130,000 on improvements and lead was no longer used, the court heard.
Mr Smith added: "No employee has exhibited any ill-health."
After the case, managing director Nick Powell said there had been a "genuine lack of awareness" on the company's part.
He said: "We have always sought to meet all legal obligations expected of the company. The health and wellbeing of our workforce is of paramount importance to us.
"Since this matter was brought to our attention in 2012 we have invested a significant amount of time and resources to ensure full compliance with regulations."
The firm was also ordered to pay £23,300 costs.