Corus's former Shotton steel site redevelopment plan is backed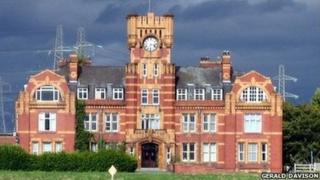 Plans to redevelop the former Corus steelworks site at Deeside to include a technology park, housing and a hotel have been approved.
Site owner Pochin Rosemound wants to develop 172 acres (70 hectares) of land off Welsh Road, Garden City, known locally as Shotton steelworks.
Flintshire councillors unanimously backed the outline plans at a meeting on Friday.
The land, including the steelworks' general office, was bought in 2010.
A report to councillors said the land is part of 200-hectare Deeside Enterprise Zone which includes the former RAF site which is also earmarked for major redevelopment bringing "investment and new jobs, particularly in the manufacturing sector".
Developers anticipate building 600 homes on the Garden City site and an open parkland area to create a "walkable neighbourhood" linking with existing footpaths and cycle routes as well as Hawarden Bridge railway station.