More than 40 years of Llangollen Eisteddfod for volunteer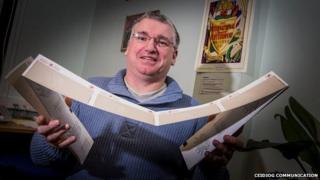 A stalwart volunteer of the Llangollen International Musical Eisteddfod since the 1970s said he has no plans to give up just yet.
Keith Potts, 46, has worked his way up from a messenger at age four to chairman of the ticket committee.
Mr Potts, who was paralysed in a motorbike crash, is known to visitors as the "helpful guy in the wheelchair."
This year's festival from 8 to 13 July will feature performances from Status Quo and opera singer Bryn Terfel.
Working behind the scenes at the the festival is a Potts family tradition, as both his father Leslie, 82, and late grandfather Robert had been involved in organising the event since it began in 1947.
But Mr Potts admits things have "changed out of all recognition" since the early days when the event had no permanent staff and the site had no phone connection.
Despite taking a few years out to recover from the motorcycle accident which left him paralysed from the waist down, Mr Potts has helped at the festival most years.
"One big family"
He has welcomed a raft of stars to the event over the years, including Luciano Pavarotti and Placido Domingo to Dame Shirley Bassey and Elaine Page.
Mr Potts said: "I also get a buzz out of knowing that when they're up on that big stage being watched by thousands of people. I've played a part in filling all 4,000-odd seats in the main performance area."
Mr Potts said he enjoys meeting people who travel from all over the world to come to the festival and said he plans to carry on as long as he can.
"Being part of the organisation of the eisteddfod is something I feel I can do given my disability, and doing it is just great because we're all just one big family," he said.
"I certainly intend to be part of it for as long as I'm able to do it."