Route changes plan after Etape Cymru bike ride sabotage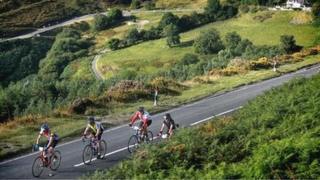 Changes to the route of a bicycle event which was hit by saboteurs throwing tacks and nails on the road last year are being discussed later.
The Wiggle Etape Cymru ride in Wrexham and Denbighshire saw 2,000 take part in the 88-mile (142km) ride in September.
Dozens suffered punctures following the incidents.
Denbighshire council is also proposing to move the event to a week later to reduce the chance of clashing with harvesting activities.
Last year some people complained about road closures in the region as a result of the event.
The race started and ended at Bangor-on-Dee racecourse, but this year the council is proposing making the opening and closing stage along different routes, so residents would be only be affected by road closures for part of the day.
Issues raised
A council report said the event would take place on 14 September 2014, a week later than in 2013.
The route covers parts of the Dee Valley, the Horseshoe Pass above Llangollen, and the Clwydian Range.
Last year, the event was worth approximately £500,000 to the local economy.
The report said the council had looked at alternative routes following issues raised by local residents.
The changes should mean the organisers avoid a situation where whole communities become cut off for a number of hours.
Councillors will discuss the changes and measures that have been put in place to address concerns over closures and local access before deciding whether or not to endorse the recommendations.