Cutting rights bought to protect Fenn's Mosses bog near Wrexham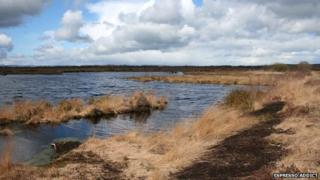 Cutting rights on a protected peat bog running between north Wales and England have been bought by Natural Resources Wales in a bid to protect the area.
Fenn's Mosses, between Wrexham and Whitchurch, Shropshire, is a Site of Special Scientific Interest (SSSI) and a special area of conservation.
It means peat extraction and moss gathering will stop and water levels in the bog will be allowed to rise.
A NRW spokesman said the site was of international importance.
According to the body, the bog has been severely damaged by drainage for agriculture, transport systems, forestry and peat cutting.
'Wonderful wildlife'
Restoration work by both NRW and Natural England has meant certain wildlife features of the site have survived and these areas are expanding.
NRW said: "The Fenn's Whixall system is one of the biggest and best raised bogs in Britain, whose astonishingly varied wildlife and mosses make it internationally important.
"If the peat licence had not been acquired ditches would have been cut in other areas of the bog to dry these areas out before extracting peat and this would have undone conservation work on the site.
"This demonstrates the importance of acquiring the peat cutting and moss gathering licence rights.
"Doing this will help enable the recovery of Fenn's Mosses, raising water levels, and protecting and enhancing its wonderful wildlife for future generations to enjoy and benefit from."