Wrexham church choir boss Jacqui Blore gets payout after redundancy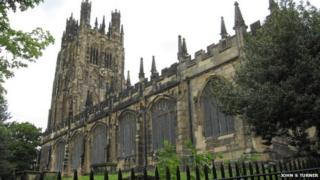 A former choir director made redundant by church leaders has received a five-figure payment after threatening to go to an employment tribunal.
Members of Wrexham's St Giles Church choir quit in support of Jacqui Blore after she lost her job last August.
Her lawyer said she was pleased with the payment and felt vindicated.
Wrexham Parochial Church Council (PCC) said: "As far as we are concerned the case is ongoing and there is no further comment to make."
Ms Blore, 46, from Wrexham, had been claiming unfair dismissal and breach of contract regarding the way her redundancy was handled.
Her solicitor, Tudor Williams said: "Ms Jacqui Blore has received a five-figure payment from the St Mary's and St Giles Centre at Wrexham following her claims to the Cardiff Employment Tribunal against the Wrexham PCC."
He said the case had been listed for a full public hearing in July prior to payment being received.
Proper channels
Ms Blore was first employed in 1996, initially as secretary to the rector, director of music and subsequently parish administrator.
In 2011 she was appointed administrator and music project manager at the St Giles Religious Education and Faith Development Centre.
Ms Blore, who had been off work since April, was told the post of musical director was being made redundant.
It was claimed that the PCC as the employer did not authorise the issue of the redundancy notice and that proper channels were not followed in dealing with the redundancy.
The Church in Wales's St Asaph Diocese said the congregation at St Giles Parish Church had taken over the choir since some of its members walked out over the dispute.