New cheeses produced in bid to put north Wales on map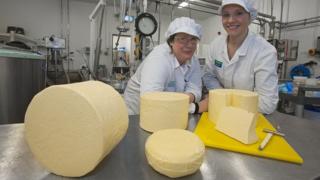 New local cheeses, cream and yoghurts have been made in a bid to put north Wales "on the map" for dairy produce.
Staff at Coleg Menai's Food Technology Centre, at Llangefni, Anglesey, developed the food to show what can be done with milk produced locally.
They are working with regeneration agency Cadwyn Clwyd to try to "create a thriving and diverse dairy industry".
A meeting is being held in Denbigh to encourage business support to develop the idea further.
In January, Anglesey sea salt won protected European status meaning it can class itself in the same league as Parma Ham and Champagne.
Robert Price, Cadwyn Clwyd's agri-food project officer, believes there is an opportunity to develop locally made dairy produce as well.
"This area is one of the UK's top dairy areas with rich pastureland and high quality farms producing the very finest milk," he said.
"There's no reason why it shouldn't also produce dairy products that are household names and we hope to encourage just those sorts of enterprise.
'Potential'
"We want to develop new products and create a thriving and diverse dairy industry which creates jobs and puts us on the map in the way that Cheddar, Camembert and Parmesan do.
"We asked the Food Technology Centre to come up with a range of products which we could make here, which would be branded locally and for which there is a gap in the market."
The project has been funded by Cadwyn Clwyd through the European Agricultural Fund for Rural Development (EAFRD) to revitalise rural communities in Denbighshire and Flintshire via the Welsh government's Rural Development Plan.
Senior food technologist Anne Marie Flinn said she and colleagues developed the new products, after "looking at neighbouring areas so as to avoid duplication".
They have made a hard cheese, a "softer washed-rind cheese" such as the Dutch Gouda, a Greek-style set yoghurt and a clotted cream-style product.
Ms Flinn said: "It is a rural area with a high level of farming and there's the potential to add value to local milk by making a high quality product and this is something that could get off the ground quickly.
"The cheese could initially be made here in Llangefni using our dairy development facilities which offer ideal support for new businesses."
She added: "Through the project we can provide support for those interested in making one of these products.
"They would need access to a supply of milk but they wouldn't necessarily need to be a dairy farmer and we already have strong interest from a number of local people."
The new diary produce will be presented to a special product development evening at Denbigh's Brookhouse Mill restaurant on Thursday.