The Wee Bag Band get US Air Force gig in Greenland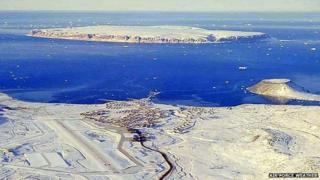 A Denbighshire band say they have been handed a gig of a lifetime after being booked by the Pentagon office to tour far-flung US Air Force bases.
Wee Bag Band member Rory McGough, from Denbigh, was sceptical when he received the email booking request for his Irish music band to visit Greenland, Cuba, Honduras and the Bahamas.
They will help USAF staff enjoy St Patrick's Day celebrations on 17 March.
They play their first gig on Thursday at Thule in the north of Greenland.
The band are due to play to a 600-strong crowd of service personnel.
The Wee Bag Band members are Rory, Paul, Alan, Jules and Steve who all have day jobs ranging from motor engineering to cartography.
They have been playing Irish music and blue grass at weddings, pubs and festivals for about five years, but they never thought they would get a booking quite like this.
IT consultant Mr McGough says he was a little sceptical when he saw the email request pop up on his computer but the band readily accepted when they confirmed it was legitimate.
"We're the only UK band they've asked to go and do this and as far as we know no-one has played Irish music in Thule in Northern Greenland. It'll be a first for us as well as for them", he said.
"By all accounts they're really looking forward to it because they've never had anything like it before," said mandolin and tin whistle player who also sings in the band.
"And of course they [Americans] have a huge Irish contingency and sometimes celebrate St Patrick's day more than the Irish do."
They landed the gigs after US Air Force personnel based in the UK saw them performing at a festival in Skegness.
Over the next 10 days the band will travel thousands of miles between the bases and experience some dramatic changes in climate with temperatures of -25C in Greenland, and then over 30C in Cuba for the second stop on the tour.
Support worker Paul Bassom, 53, who plays guitar and sings in the band, said he was keen to get everyone dancing.
"I've got this image in my head of those old black and white films where all the forces are having the gang show and all sitting in seats," he said.
"We're just going to have to ask them to get rid of a few, aren't we?"