Flood-hit Conwy and Denbighshire land £720,000 to help tourism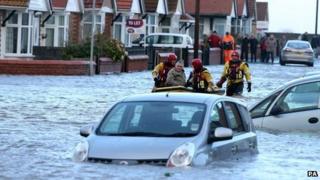 The flood-hit tourism industry in north Wales has received a £720,000 boost from a Welsh government support fund.
Conwy council has been awarded £467,000 to repair a cycle track at Llandudno and Deganwy, but most of the money will go to rebuild Deganwy Quay promenade.
Denbighshire council will benefit from £256,000, with some of the cash used to improve access to Rhyl beach.
The funding follows the £1.6m handed out in January to the six councils worst hit by the recent flooding.
The cost of repairing the damage caused by the winter storms and high tides around Wales is expected to cost councils £8m, BBC Wales found in January.
Minister for the Economy Edwina Hart said: "This funding will help speed up repairs to damaged infrastructure that could have had a negative impact at the start of the main tourism season in Wales. Wales is open for businesses, but we want to ensure areas affected by the winter storms are fully open for 2014.
"The extreme weather which has hit the whole of the UK this winter has no doubt made for a difficult start to the year for many tourism businesses."
Conwy council has estimated that the construction and long-term management of its sea defence scheme would cost around £81m.
The Welsh government said last month that £5m would also be spent to protect homes, businesses and transport links in Colwyn Bay from flood damage.
It recently announced a scheme to help fishermen affected by the weather and has allocated £3m for emergency repairs to help restore the coastal defences damaged during the storms.