Three jailed for 'vicious' robbery of vulnerable man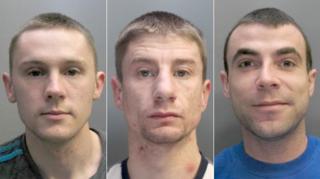 Three men have been jailed after threatening to cut off a vulnerable man's fingers, toes and nose.
Their victim was bound and gagged in his own flat, in the Wrexham area.
Andrew Lee Hughes, 26, of Wrexham, Leon Pritchard, 28, of Rhos, and Paul Taylor, 26, of Bromsgrove, Worcestershire, all admitted robbery and fraud at Mold Crown Court.
Hughes and Pritchard were given seven years, Taylor was given six years after an early guilty plea.
The court heard that the guilty trio had been drinking and had taken the drug mephedrone, also known as M-Cat, when they took advantage of the 22-year-old man.
Their victim was first assaulted by Pritchard, who grabbed the young man around the throat, while Hughes grabbed his legs and forced him to the floor.
The man was then restrained with duct tape, gagged, and then punched and slapped.
The trio threatened to cut off his hand unless he revealed a mobile phone password, and also stole a video games console.
'Determined attack'
The three men later returned to their victim's home to steal a controller for the games console, which was sold for £130.
The injured man later escaped through a first-floor bathroom window.
The judge, Mr Recorder Wyn Lloyd Jones, said the three had been fuelled by drink and drugs and all had terrible criminal records.
He said: "This was a determined attack using significant force for financial gain. This must have been a terrifying ordeal for the victim."
He added that the man had suffered significant psychological harm and was forced to return to his parents' home for a while.
"Victims like this can expect the protection of the court from thugs like you," he added.