Apology as Village Bakery Half Marathon runners sent wrong way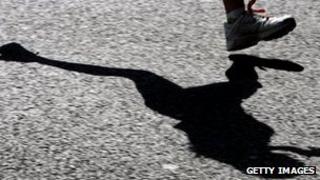 Organisers of a half marathon in Wrexham have apologised after runners were sent the wrong way, adding an estimated half mile to the route.
The Village Bakery Half Marathon route was changed due to floods in Holt which was partly blamed for the error.
Over 400 competitors from across north Wales and the north west of England took part in Sunday's race.
Wrexham Athletics Club issued a statement apologising for the "marshalling error".
The statement also said the mistake was due to "last minute course changes we were forced to put in place in order not to disappoint you all as parts of the original course were flooded".
Social media
The club said that, while providing little consolation, it shared runners' frustrations, adding that organisers were all volunteers who "receive no reward for their time and efforts".
Some competitors took to social media to air their frustrations.
Gary Wane, from Wigan, Greater Manchester, said on Twitter he was "gutted" while Paul Platt, also from Wigan, said he ran his best time despite a "marshal sending everyone wrong way, adding on around 0.65 mile extra".
One runner tweeted: "Someone needs to tell the organisers that half marathon distance is 13.1 miles not 13.7."
And another said: "Enjoyed the Wrexham half marathon despite half the field being sent the wrong way."
Two years ago pranksters changed signs while the same race was under way, sending 40 runners the wrong way.