Print jobs set to go at Dobson and Crowther Llangollen factory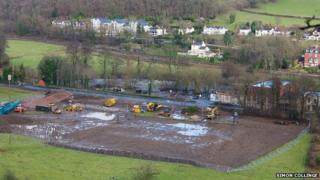 Thirty jobs face the axe at a Denbighshire printers where staff took a pay cut to tide the company through its financial problems, said a union.
Dobson & Crowther in Llangollen, which employs about 90 staff, is due to start redundancy consultation with workers on Monday, said Unite.
The company has been asked to comment.
A replacement factory is currently being built further away from town in a land swap deal with a supermarket chain.
Unite regional officer Tony Brady said it was devastating news for the workforce and their families.
"Unite will be making strenuous efforts to save these jobs," he said.
"This area can't afford to lose these jobs."
He claimed the company has been "struggling for some time" and workers agreed to give up 7.3% of their wages to help bosses in November.
"Unite will be campaigning hard to save these jobs and will be working with all interested parties to support employment at Dobson & Crowther," he said.
The plans for a new supermarket has caused controversy with some people claiming it could have an effect on other businesses in the tourist town.
Llangollen councillor Stuart Davies said: "It's a great pity that the process caused by opposition to the development has slowed the opening of the new factory.
"It could have been completed by now, delivering a modern, cheaper to operate factory that could conceivably have saved these jobs."
The Keep Llangollen Special community group denied hampering efforts to open a new factory, saying "neither we nor any of the plans' opponents have protracted the granting of planning permission in any way".
A spokesperson said: "We saw the job cuts coming and warned him long ago and several times this would happen."
A turf-cutting ceremony was due to be held at the site of the new factory at Climedw on Friday.