Wrexham councillors vote to close Plas Madoc Leisure Centre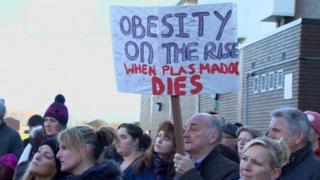 Councillors have approved plans to close a leisure centre in Wrexham to cut costs, despite "wholesale opposition" from 2,000 people.
Wrexham's executive board approved the closure by seven votes to two.
The closure proposals were part of a plan to cut spending by £45m over five years.
The council's budget still has to be approved by full council and campaigners say they still hope to make a case for it to be saved.
Wrexham council will extend the amount of time any interested parties have to come forward to take over the leisure centre until the end of June.
Human chain
The council says the community could run it, but supporters had claimed they have not been given time to draw up plans.
About 100 leisure centre supporters lobbied councillors in a noisy protest before the Guildhall meeting.
Last month, 700 demonstrators formed a human chain around the centre.
Among supporters is former Wales footballer Robbie Savage, who played five-a-side at the centre as a boy.
A council report outlined opposition to the closure saying it is regarded as a "valued resource that contributes towards health and wellbeing and a focal point for the local, deprived, community".
'Heavily subsidise'
However, the report said the council faced big budget cuts and a £2m bill in maintenance costs at its leisure facilities, including Wrexham's town centre Waterworld swimming baths and gym.
Councillors also voted to close Waterworld, and possibly replace it with a new facility.
The report said: "In normal circumstances the council would wish to retain and invest in all of its facilities.
"However, members have to take a very difficult decision in order to make necessary savings in the short term while also seeking to secure a future for even a reduced leisure service in the county borough in the medium to long term.
"Both Plas Madoc Leisure Centre and Waterworld will one day have to close and the council will not be in a position to fund the replacement of both facilities given the severe financial constraints that it faces.
"In the meantime, the council does not have the resources to invest in the buildings to meet essential maintenance costs and is continuing heavily to subsidise use of the facilities, particularly Plas Madoc."