Deeside Enterprise Zone advert rejected again in Manchester area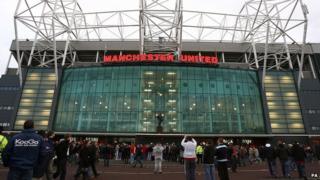 A fresh attempt to advertise a north Wales trade zone in the Manchester area has been rejected.
Trafford Council blocked plans by Deeside Enterprise Zone - one of seven in Wales to help stimulate business - to erect a poster near Manchester United's Old Trafford stadium.
It follows a decision by bosses at Manchester Airport to order the removal of a similar advertisement.
The Welsh government said it was "doubly disappointing".
The poster would have run for a fortnight in February along the main A56 Chester Road near the football stadium.
It would have promoted Deeside's geographical benefits for potential businesses and investors in the Manchester area, just 35 minutes away.
A Trafford Council spokesperson said the application was rejected because it was believed it would have "encouraged business out of the area".
The bid for advertising space was made after a poster at Manchester Airport was removed by bosses for fear it would impact negatively on the nearby £800m Airport City development.
This is of the UK's largest regeneration schemes designed to create "a globally connected business destination located at Manchester Airport".
Superfast broadband
Deeside is one of the first enterprise zones to be created in Wales by the Welsh government to boost business.
Each one is dedicated to nurture specific industries, with Deeside describing itself as "one of the UK's leading locations for advanced manufacture".
Companies have access to a range of benefits, including business rate relief, skills support and superfast broadband.
A Welsh government spokesperson said: "It is doubly disappointing that our efforts to promote Deeside Enterprise Zone to a business audience across the English border have once again been vetoed, this time by a Conservative-led local authority.
"We will continue to identify suitable locations to promote the many benefits of Deeside Enterprise Zone to potential investors travelling through Manchester metropolitan area."
Businessman Askar Sheibani said the council had been "very short-sighted and naive" in its decision.
"This is just madness and an unbelievable decision - as an entrepreneur and a businessman it doesn't make sense," he said.
"If Deeside's doing well, they'll do well. Our development would be good for the whole area."