Reading to Amber the dog 'improves' literacy at Ysgol Bryn Coch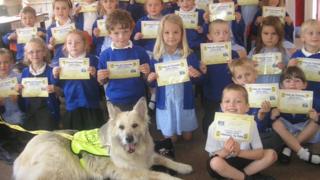 Mild mannered rescue dog Amber is credited with helping children to improve their reading at a Flintshire school.
The German Shepherd attends Ysgol Bryn Coch in Mold every week where children take it in turns to read to her.
Teacher Wendy Catherall said the experience was a "confidence booster" because Amber was non-judgemental.
The project is being promoted during National Storytelling Week as a way to encourage reading.
Amber is the second dog to visit the school regularly over the last two years via the Pets as Therapy charity and The Kennel Club's Bark and Read Foundation.
Ms Catherall coordinates the weekly sessions with Amber's owner, Keddie Kelsall from Mold.
The teacher said the children aged five and six adored the dog and were motivated to read to Amber.
"It was a scheme first developed for low self-esteem children and reluctant readers but I think it really works across the board," said Ms Catherall.
"Our results show that the children enjoy it so much and are so keen to read to her that their reading improves at home and in the class.
"The children love her. She is so placid."
Amber and handler Ms Kelsall, a volunteer at Pets as Therapy, visit for one-and-a-hour sessions each week with groups of six to eight children taking it in turns to read and groom the dog.
Ms Kelsall said Amber deserved the fuss because of her good nature and especially as she was taken in after being rescued.
'We are thrilled'
"It's great for them and Amber enjoys it," she said.
"It's not just their literacy that improves as the term goes on.
"Sometimes we have a few nervous ones in the class who have not handled dogs before.... they get so used to her."
Kennel Club secretary Caroline Kisko said: "We are thrilled that Bryn Coch school is supporting child literacy and helping to boost reading levels by arranging for the children to read to their Pets as Therapy dog.
"We have seen many schools noting a marked improvement in pupils' reading levels since getting involved in Bark and Read, as it offers the children the chance to read aloud in a unique and fun way, without pressure or fear of judgement."