Police stand-off with officer in Prestatyn ends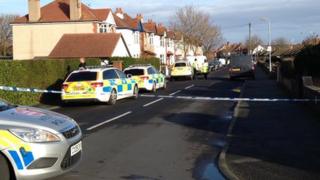 Police negotiators have talked a serving officer out of a Denbighshire house after a six-hour stand-off.
Emergency services were called to reports of a disturbance at Trevor Road, Prestatyn, at 09:37 GMT.
North Wales Police said a 39-year-old local man, understood to be the occupier, had refused to leave.
The man, who serves with Cheshire Police, left the property at about 15:30 GMT. Nobody was injured in the incident, the North Wales force said.
In a statement, it said: "Specialist negotiators made contact with the man in order to resolve the matter peacefully and return the area to normality.
"At about 3.30pm this afternoon, police successfully concluded the operation and the man has accompanied a family member to an undisclosed location."
Supt Pete Newton added: "I'm grateful to local residents for their understanding and co-operation and I'm happy to say the area has returned to normality."