Denbighshire council approves £8.5m budget cuts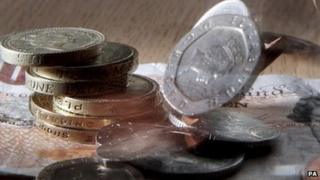 Another council in Wales has approved millions of pounds in cuts to try to balance its books.
Denbighshire council agreed savings worth £8.5m which include using £500,000 from cash reserves.
It is the latest local authority in Wales forced to review its finances following a 4.6% reduction in funding from the local government settlement.
The council said it had met most of its target from savings over recent months, but had needed to cut another £2m.
The authority's cabinet had already backed a band D council tax rise of 3.5% to help make ends meet.
The local authority said a budget-setting round in September identified £1.7m of savings. A second round in December identified a further £4.7m.
The £6.4m total has been found by reducing funding to leisure facilities, the reorganisation of schools, reducing the number of cars in its fleets and restructuring management in some departments.
A decision to end £200,000 support for Clwyd Leisure, a company running three seaside leisure sites, has resulted in the facilities being handed back to the council.
'Breathing space'
A report before Monday's full council meeting said the proposals to close the gap included taking £500,000 from cash reserves.
It said: "The use of balances (reserves) also does not solve the underlying issue - it merely uses cash to temporarily plug a permanent hole in the council's finances and so defers the problem to another day.
"The importance of appropriate levels of balances has been highlighted over the past year with major flooding events in Ruthin, St Asaph and Rhyl, and county-wide problems with snow."
In a statement to the committee, the chief finance officer said: "The use of balances as proposed is not ideal, but gives the council some breathing space to develop further savings proposals for 2015/16.
"The council will still have sufficient balances to deal with any reasonable contingencies."
Councils across Wales are drawing up money-saving plans to deal with cuts to their budgets.