Paedophile Gavin Benit jailed for hotel rape of girl, 15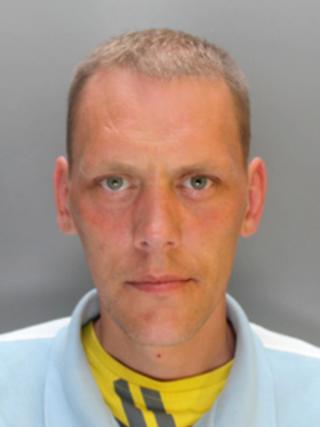 A paedophile who was jailed for having sex with a 13-year-old girl has been jailed again for raping a girl of 15 in a hotel in Conwy county.
Gavin Benit, 36, was convicted at Caernarfon Crown Court after the jury heard he had groomed the vulnerable girl with graphic text messages.
Jailing him for 10 years, Judge Merfyn Hughes QC also imposed a 10-year order limiting Benit's internet access.
The rape took place at a Colwyn Bay hotel where he was placed in a flat.
Benit had served a four-year sentence for the previous offence.
He admitted taking the teenager - who he referred to as Baby Girl - into his flat at the Hotel Rothsay, even though visitors were not allowed beyond the foyer at the hotel.
Sion ap Mihangel, prosecuting, claimed the defendant was a man "who likes to have sex with under-age girls".
He told the jury that graphic text messages seized by police made it clear intercourse was envisaged by Benit "and also that the girl was reluctant for this to happen".
'Preyed'
Benit's defence barrister said his client had had a difficult upbringing.
The judge told Benit he had targeted the 15-year-old, who was vulnerable to the sort of attention he was giving her.
He said: "You saw her as someone you could take to your hotel bedroom for the purpose of sexual intercourse either with or without her consent."
Benit must register as a sex offender for the rest of his life.
Det Insp Kelly Isaacs, of North Wales Police's sexual offences team, said: "Benit preyed upon a 15-year-old child who was vulnerable because of her age.
"He had also lied to her about his age and intentions."