Hundreds of missed GP appointments in Clwyd South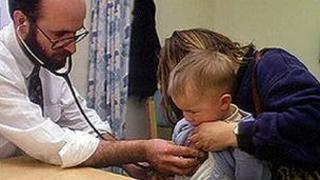 More than 300 hours of medical appointments were missed in three months at doctors surgeries across Clwyd South, figures show.
Between 1 October and 31 December patients failed to attend 1,903 appointments at practices in the area.
Ken Skates, the local Labour AM, said the missed appointments were a huge strain on the NHS.
The figures come as concerns were raised over a shortage of GPs in Gwynedd.
Mr Skates asked all surgeries in his Clwyd South constituency to supply the information on so called "did not attends" (DNA).
Llangollen Health Centre, which has surgeries in Acrefair and Glyn Ceiriog, has about 9,000 patients and recorded 628 missed appointments.
'Valuable time'
During the same period, Forge Road Surgery in Southsea recorded 667 DNAs, while Chirk Surgery had 222 missed slots.
Caritas Surgery, which runs clinics in Cefn Mawr and Coedpoeth, had 173.
But three other surgeries in the area did not supply information, meaning the true figure could be much higher.
Mr Skates said that if an average appointment was 10 minutes, the total number of missed appointments during the three months amounted to more than 317 hours - or 40 eight-hour working days.
Some of the surgeries which responded also have appointment slots longer than 10 minutes, meaning the number of hours lost through DNAs could be even greater.
"Those who fail to keep their appointments are simply adding to the strain on staff and NHS resources," Mr Skates said.
"They also prevent other people from getting medical attention when they don't even inform the surgery they can't make it and doctors' and nurses' valuable time goes begging."
GP shortage
"Missed appointments cost the NHS tens of million pounds a year across Britain and its hard-working, dedicated staff are under enough pressure as it is without having their time wasted. I don't think a simple, 30-second phone call is too much to ask."
Concerns over a shortage of GPs in parts of Gwynedd were raised in a letter to Health Minister Mark Drakeford this week.
It said one surgery in Pwllheli was only able to deal with emergency cases for over a month due to the shortage.
Earlier this month, Mr Drakeford said changes to the way GPs are paid would allow them to spend more time with patients.
This should make it easier for people to get appointments, he said.
Under the new contract 300 measures will be cut, reducing form-filling to free more time for GPs to spend with patients.