Llanbedr Dyffryn Clwyd school closure plans process was correct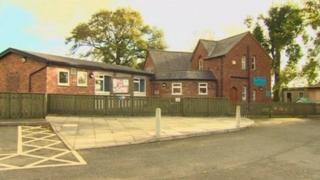 Consultations on plans to close a Denbighshire primary school were carried out without prejudice, councillors have agreed.
Denbighshire's cabinet last week voted in favour of closing Ysgol Llanbedr Dyffryn Clwyd in August.
But the decision was called in for scrutiny after objectors claimed no proper consultation was held.
On Thursday those claims were dismissed and it was agreed the council had followed the correct process.
A council spokesman said: "Following a lengthy debate, scrutiny committee decided that the correct process was followed, that consultation had been carried out properly and that the decision to close the school was not pre-judged.
"The matter will not be referred back to the cabinet."
Statutory notices on the closure will now be issued, giving parents and teachers another chance to air their views before a final decision is made.
The proposed closure is part of a review of primary school education in the area.
If agreed, the Church in Wales school's 22 full-time and seven part-time pupils, would be transferred to Ysgol Borthyn, Ruthin.