New £1m library opens in Prestatyn after redevelopment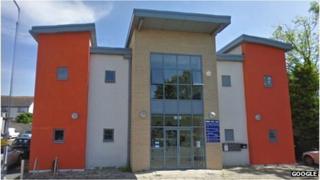 A new library is opening in Prestatyn following a £1m redevelopment of a council building.
The library will also function as a community centre for health and social care bodies, with counselling rooms, computers and help desks available.
The building was previously offices, and the council said converting it was half the cost of a new build.
Denbighshire council said it was pleased to open a library at a time when other councils were shutting them.
The King's Avenue centre is officially opening on Wednesday.
Cabinet member with responsibility for libraries, Huw Jones, said: "The new facility is now an important community resource centre - a social centre and a hub for the community."
Denbighshire is following in the footsteps of Caerphilly council, which opened a new library on 10 January.
The library in Caerphilly is another multi-use building, with a customer service centre integrated into the new building on the old post office site in The Twyn.