Flintshire council job cuts to help save £15.5m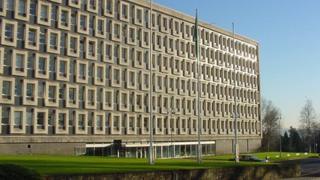 Flintshire council plans to save £3.5m through job cuts and a senior management shake-up as the authority looks to make £15.5m in budget cuts.
Bosses say a restructuring plan has been drawn up to protect frontline public services from cash cuts.
A "streamlined senior management" will save £2m with a further £1.5m by reducing the workforce, says chief executive Colin Everett.
The draft budget published on Friday does not say how many jobs will be cut.
Council leader Aaron Shotton said the authority's priority was to retain public services by creating a "lean and efficient organisation".
'Increased pressures'
"None of the changes to services proposed in our budget should have a big impact on communities unlike the announcements some other councils have been forced to make," he said.
"Neither will we be proposing major hikes in council tax or fees and charges.
"The council has lived within its means by setting annual council tax rises of between 2.9% and 3.5% in recent years and we do not propose to go beyond these limits."
He explained that the budget gap is due to several factors such as government funding cuts, meeting the costs of inflation and increased pressures on services such as social services.
He said there were also additional costs associated with borrowing to build new schools at Holywell and a replacement campus at John Summers school in Queensferry.
The budget proposals will be discussed by scrutiny committees before going to the full council for agreement on 18 February.